Skip to product information
Adriana Leggings in Coffee + Black
Sale price
$128.00
Regular price
$128.00
Free shipping on orders over $250. Use code FREESHIP250.
---
Our Adriana Leggings are a creation of their own. We've specifically developed our garments to encapsulate everything you need in one piece of buttery soft, everyday apparel. Moisture-wicking technology combined with a uniquely hand-dyed pattern will take you all the places you need to go in comfort and style.
Why you'll love them: 
Uses ethical dye practices that limit the amount of water used when dyeing each product
Fabric is durable and soft
Developed for long-lasting wear and use 
Eco-Conscious Fashion: Responsible Dye Process
We use a method in the dye process called "exhausting the dye bath", which means that our clothes are made using only the correct amount of water, non-toxic dyes, and fixatives required to achieve the desired results. All the water we use is re-used as much as possible in an effort to reduce waste, and each fabric we choose in the collections has been carefully considered with this in mind. Any prints we do are done on quality fabrics chosen for their properties that make them great for an active lifestyle.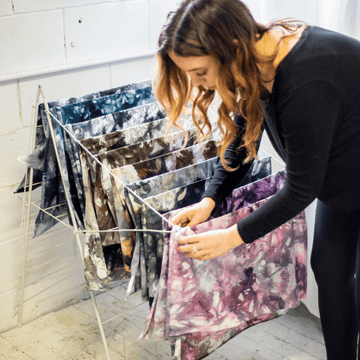 Locally Manufactured & Made in Canada
We are fashion brand that values local manufacturing and proudly produces its garments in Canada. By keeping our production local, we support the Canadian economy and reduce our carbon footprint by minimizing transportation. Additionally, producing locally allows for greater transparency and control over the production process, ensuring high quality and ethical standards are met.